Nature Park Blidinje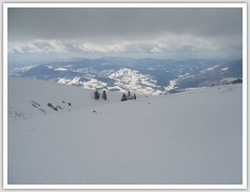 Blidinje Nature Park was established April 30, 1995 godine situated in the central part of the high mountains of Bosnia and Herzegovina; spreads over an area of 364 km2 in the area of three municipalities, Posušje, Tomislavgrad and Jablanica;
The central part of the park is dominated by a long field and lake Blidinje lies in southeast part of the park. Western border of the park makes Vran mountains in the southeast are the Neretva river and mountains Čvrsnica, and on the northeast Doljanka. Geologically, the park is characterized by sedimentary deposits formed in the Mesozoic carbonate platform system 180 million years ago. In geomorphologic terms can be singled out four regions: mountain range Čvrsnica (2 228 m), mountain range Crow (2 074 m), the western mountain ridge and valley Čabulje Long fields. Park is situated on only two hours drive from the Adriatic Sea. The park can be reached from the direction of Rama, Jablanica, Tomislavgrad or Posušje.
The most important hydrographic phenomena in the area of the park is lake Blidinje. Originated in the basin between planiniskih massive Čvrsnica and Vrana in small concave with karst features of the bay. Lakes varies from 2.5 to 6 km2, while the average depth is about 1.9 m. During the arid years lake almost dried up. In order to reduce the runoff of water from the lake it is necessary to continue the unfinished projects closing porous zone. Besides rain, rain and snow, the lake is prihranjuje bujičnim Vran flows from the mountains, fields and Long Čvrsnica. An important role in shaping today's relief appearance was the man who destroyed much forest cover and buried a large number of removals. According to documents of the parish office of the parish Poklečani, lake was created as a result of anthropogenic interventions herders who did not have enough water supply for livestock. In order to preserve the water that is lost into the abyss they were close branches and clay. Water so that she could not find its way to the interior of the lake is formed. In May 1940th , Water has found the way to the abyss, but he was again imprisoned. According to some authors, the lake is glacial origin.
Park is characterized by two types of climate. Lower and south parts of the exposed mountain Čvrnice, Plasa, and Čabulja and Crow have a Mediterranean climate. The valley of the Neretva River and its tributaries right to the Mediterranean climate of Jablanica and penetrates deeper into the interior. North slopes of the mountains and higher nadomorski parts under the influence of continental climate. With increasing altitude leads to falling temperatures and longer retention sniježnog cover. Winters are long cooled with a lot of snow falling from October to May, which particularly favors the development of winter tourism. The average rainfall is 1 590 mm per year, of which most of it snow.